What's New
Total Sky Imager Design Competition
Sep 23, 2019
The "Total Sky Imager Design Competition" is organized by Faculty of Engineering, The University of Hong Kong (HKU), Hong Kong Observatory (HKO), and Hong Kong Meteorological Society (HKMetSoc), and is supported by the HKU Knowledge Exchange Fund. It aims to enrich students' knowledge in both engineering and meteorology.

For further information, please visit: https://i.cs.hku.hk/~sky

Facebook page: https://www.facebook.com/HKUskyimager
---
LUI Che Woo Prize – Prize for World Civilisation Laureate Public Lecture 2018 – Towards a Weather and Climate Resilient World
Sept 21, 2018
The Secretary-General of the World Meteorological Organization, Prof. Petteri Taalas, will deliver a talk at the LUI Che Woo Prize - Prize for World Civilisation Laureate Public Lecture 2018, and the details are as follows:

Title: Towards a Weather and Climate Resilient World
Date: 4 October 2018 (Thursday)
Time: 10:30 a.m. - 12:00 noon
Venue: V322 Lecture Theatre, 3/F, Jockey Club Innovation Tower, Poly U

You are cordially invited to join this public lecture!

Lecture Abstract: https://www.polyu.edu.hk/cpa/event/lcwp2018/abstract.pdf
Online Registration: https://www.polyu.edu.hk/lcwp2018
Enquiries: 3400 2133

---
ZCB x HKO Microclimate Collaboration officiating ceremony cum HKO COWIN 10th Anniversary Celebration & Drone Demo Session
Oct 18, 2017
The Construction Industry Council - Zero Carbon Building (CIC-ZCB) is partnering up with Hong Kong Observatory, School of Life Sciences of The Chinese University of Hong Kong, DJI and various organizations, to hold an event named Smart Drone Demonstration & Experience Day on 4 November 2017 (Saturday). We would like to show public, teachers and students the latest technologies of unmanned aerial vehicle (UAV) and its applications in construction, surveying, microclimate monitoring and tree health management.
---
The Observatory launches its first ebook - "Cloud Appreciation by Dr Tin"
Jul 24, 2017
The Hong Kong Observatory launches its first electronic version of a cloud ebook named "Cloud Appreciation by Dr Tin" today (24 July 2017). This ebook mainly introduces the formation, classification and interesting features of clouds. It is presented in first hand by the Observatory's Ambassador, Dr Tin, with a view to promoting your interest in cloud appreciation.
For further information, please visit: http://www.hko.gov.hk/whatsnew/r2/whatsnew_20170724.htm
---
2017 Hong Kong Observatory Open Day - Come Visit Us
Mar 24, 2017

The Hong Kong Observatory (HKO) will be opened to the public on 25 and 26 March 2017. This year's theme for the Open Day is "Understanding clouds". You are cordially invited to visit us and see how we have applied science and technology to serve the public.
All members of the public are welcome. No tickets are required but entry will be regulated if necessary. For further information, please visit: http://www.weather.gov.hk/openday/2017/indexe.htm
---
Earthquake Detector Design Competition
Sep 26, 2016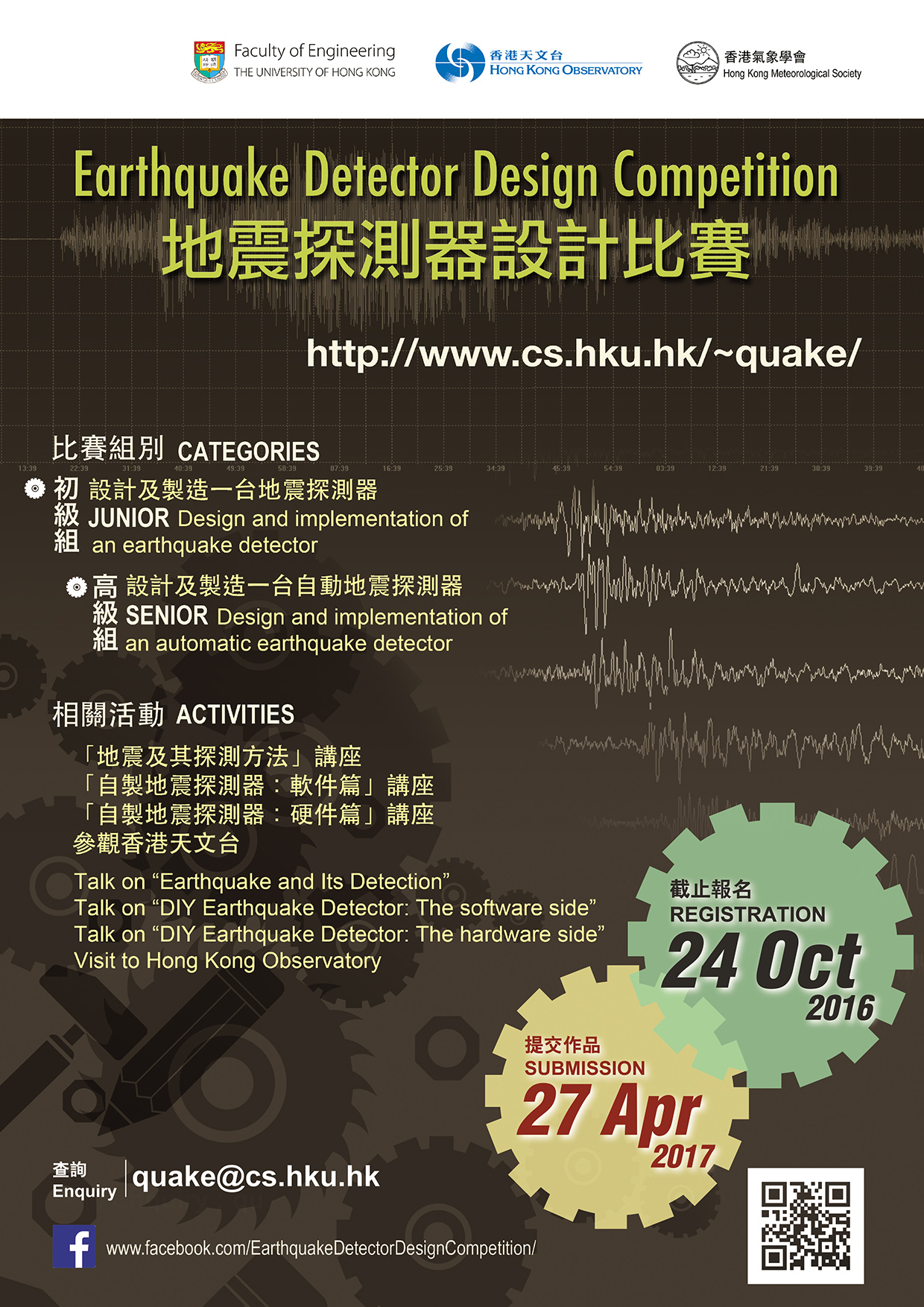 The "Earthquake Detector Design Competition" is organized by Faculty of Engineering, The University of Hong Kong (HKU), Hong Kong Observatory (HKO), and Hong Kong Meteorological Society (HKMetSoc), and is supported by the HKU Knowledge Exchange Fund. It aims to enrich students' knowledge in both engineering and meteorology. All primary and secondary school students of Hong Kong are welcome to take part in the competition. For further information, please visit: http://i.cs.hku.hk/~quake/Index-English.php
---
Invention for Schools Contest
Oct 26, 2015
The "Invention for Schools" Contest is organized by Faculty of Engineering, The University of Hong Kong (HKU), and is supported by the HKU Knowledge Exchange Fund. It aims to enrich students' knowledge in engineering. All primary and secondary school students of Hong Kong are welcome to take part in the competition. For further information, please visit: http://www.cs.hku.hk/~i4s/
---
School and Home Energy Saving Scheme 2015 - Energy Saving's Got Talent
May 19, 2015
CLP Power is launching a brand new challenge titled School and Home Energy Saving Scheme 2015 - Energy Saving's Got Talent and is inviting all secondary school students to participate. The project allows students to convey messages about energy saving through creative channels such as singing, short films and dance performances. For further information, please visit: https://www.clponline.com.hk/myBusiness/Pages/GreenSchoolProgramme.aspx?lang=en
---
Popular Science Talk Series For Teens --- Typhoon and Other Severe Weather in Hong Kong
Oct 6, 2014
---